Painting an intricate portrait of Sydney through spatial mapping
By: Winston Yang
Urban Planner, GIS Analyst and Graphic Designer at Mecone
Just a few short decades ago, checking the zoning maps for a parcel of land was a far more involved task than simply a few clicks of the mouse – it was a task where you would have to physically get yourself to a council office or library if you wanted to peruse the zoning maps. These maps were hard copy and by no means interactive. If you wanted to zoom in, your only choice was a magnifying glass. You could forget about simply turning on an aerial image layer to see what's on the site or getting down to street level with Street View. If you wanted to see what was there, you would have to make a journey to the site in question yourself.
Fast forward back to the present day and whilst easy desktop access to mapping is one of the main benefits of the electronic age, the digitisation of mapping and demographical data also brings us the ability to analyse spatial information like never before, presenting a trove of previously-obscure, yet valuable and fascinating data for planning for Sydney's future. Whereas previously, demographical data was predominately presented in verbose, non-visual tables, we are now able to spatially visualise that data to paint an intricate portrait of Sydney. Mecone has the ability to analyse such spatial and demographic data and present them visually in easy-to-understand maps and infographics, as we have done in this article.
In my upcoming series on the application of spatial and demographical data analysis, I will present various demographical and planning maps and provide observations and analysis on various data of interest to planner and developers, as well as the general public. In this first instalment, I present the Australian Bureau of Statistics' (ABS) SEIFA data in the form of a map of Sydney where red represents a low score, yellow a medium score and green a high score. SEIFA stands for Socio-Economic Indexes for Areas and succinctly put, it provides an indication of social advantage versus social disadvantage – the higher the score, the more advantaged an area is.

An overview view of the SEIFA index throughout the Sydney metropolitan area
Expectedly, the map shows how areas such as the Eastern Suburbs, Northern Beaches and the North Shore are relatively well off and how Western Sydney is generally less well off. However, it also reveals some more fine-grain and sometimes unexpected variations within specific areas of Sydney.
Our first example is the Sutherland Shire. We can see that along the rail corridor, the SEIFA score is relatively lower compared to the rest of Sutherland Shire. Intrinsically, one would come to the conclusion that people would view being close to public transportation as a positive, which it is; however, rail corridors also often bring with them higher density zonings. These higher density zonings mean apartments, which, generally, are lower priced than detached dwellings. With their lower asking prices, they are also more likely to attract first home buyers, who would generally have less assets than their older compatriots who own the larger lots of land further away from the railway line.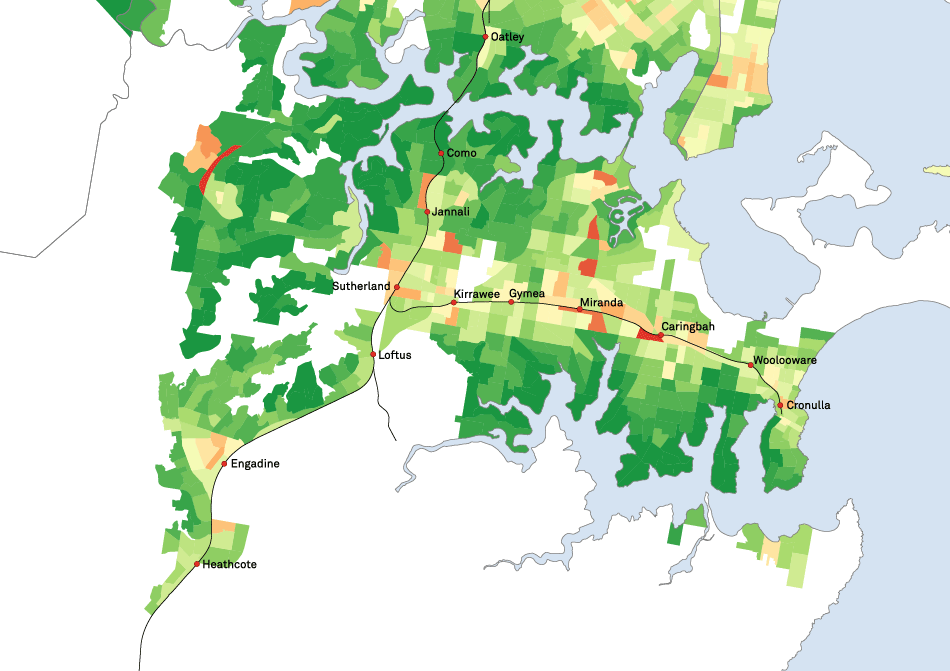 SEIFA index numbers in the Sutherland Shire
In the City of Sydney, we can also see patches of red amongst the greens. Those of you familiar with Sydney's geography will recognise these locations as Millers Point, Redfern/Waterloo, Woolloomooloo and Glebe – areas with a sizeable amount of government housing. As gentrification in these areas ramps up, such as with the recent highly-publicised sales of government housing to private owners in Millers Point, it will be interesting to see whether these areas' SEIFA scores will become more uniform with their surrounds in the 2016 ABS Census. It also poses interesting questions about how those neighbourhoods' character and demographics will be fundamentally changed with the replacement of low-income public housing tenants with new owners able to fork out the multi-million-dollar price tags of the houses on the market in those areas.

SEIFA index numbers in the City of Sydney
Up in the Northern Beaches, near Collaroy and Narrabeen, there's a patch of red that stands out amongst a sea of mostly greens. Being less familiar with the geography of the Northern Beaches, this irregularity confounded me at first; however, with reference to a street directory, I found out that this particular demographical outlier was a retirement village. Expectedly, further analysis showed that other retirement villages throughout the metropolitan area also exhibit similar SEIFA score disparities with their surrounds.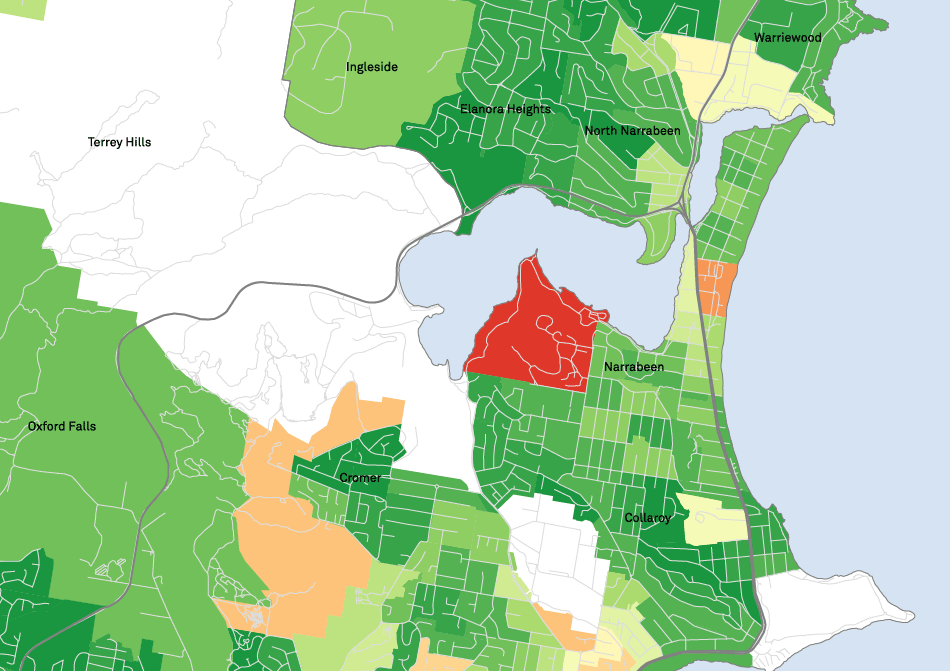 SEIFA index numbers in the Northern Beaches
Over to The Hills Shire, we see one of the sharpest changes in SEIFA score from high to low in Sydney. The area in which the boundary between Blacktown City and The Hills Shire stands is one of great contrast with some of the most well off and least well off residents living right next to each other. The Richmond Railway Line and Windsor Road act almost as a physical barrier between and gives credence to the saying of "the wrong side of the tracks" or "the wrong side of the highway".
With the development of the North West Growth Centre, one envisages that the Blacktown side will receive an increase in SEIFA scores. New suburban subdivisions have already started moving the demographical boundary of those who are well off westwards. This is clearly visible in the area between the T1 Richmond Line at Quakers Hill and Windsor Road – the areas recently subdivided have a much higher SEIFA score than the more rural area immediately to its north around Riverstone and Schofields.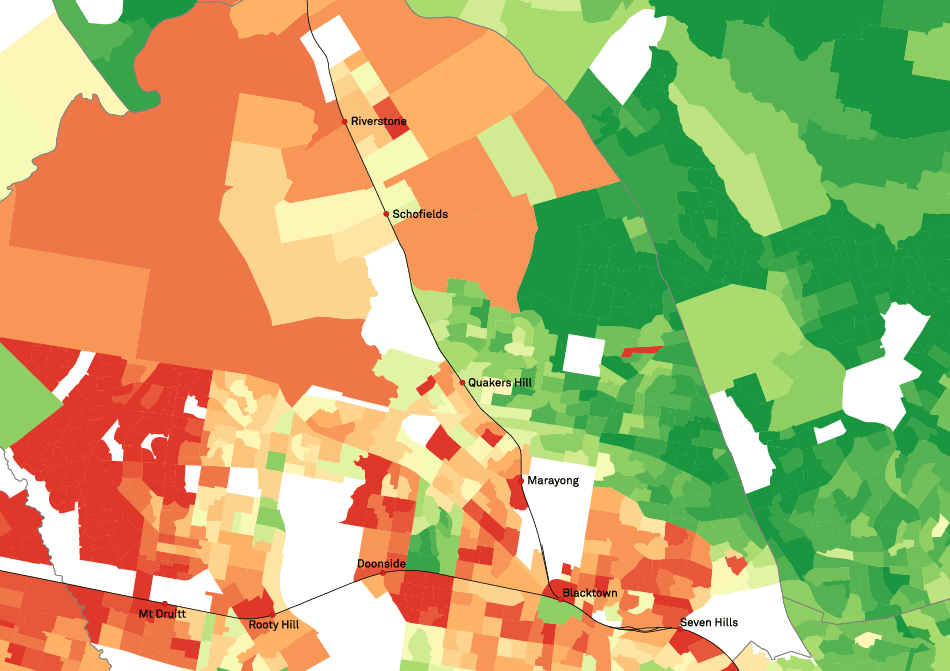 SEIFA index numbers in north-western Sydney
This abrupt change in socioeconomic status is reminiscent of those in many American cities, such as the infamous 8 Mile Road in Detroit or Interstate 5 in Los Angeles. The map by Dustin A. Cable of the University of Virginia below, compiled from 2010 US census data, shows the racial makeup of the Detroit metropolitan area. Each dot represents one person; blue dots are those who identified themselves as being white and yellow dots are those identified themselves as being black. A very clear and sharp boundary is between racial groups is apparent at the aforementioned 8 Mile Road.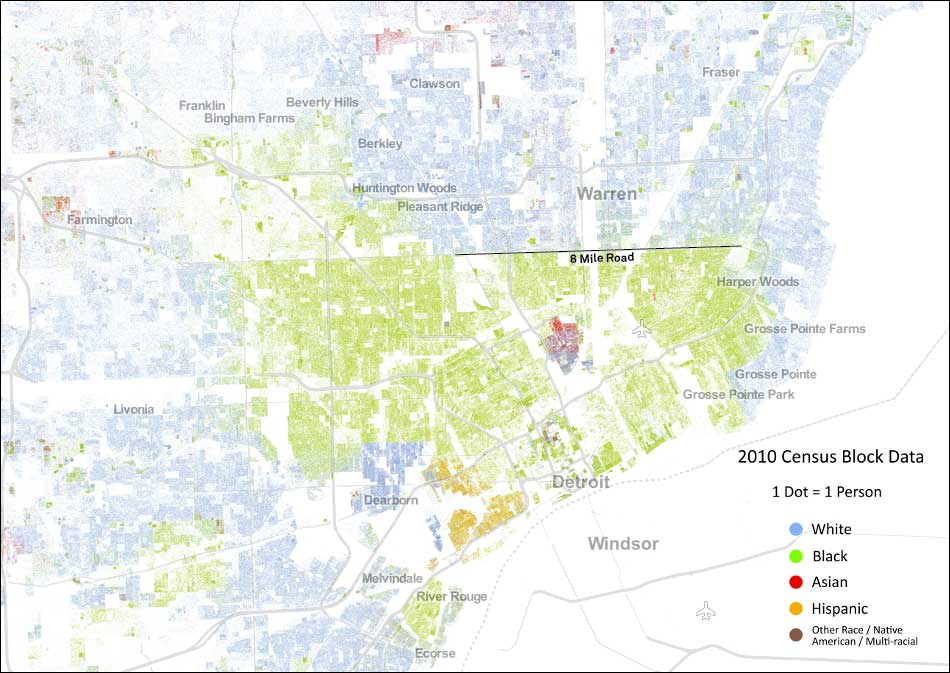 Dot map of Detroit, showing the distribution of ethnicities
Whilst Sydney is by no means as segregated as some American cities, there is definitely a clear indication of socioeconomic-based grouping in the Sydney metropolitan area. The often-mentioned east–west divide is clearly visible on the SEIFA map; however, it's not a straight line as many would imagine, but rather, more in the shape of a 'U' turned 90 degrees anti-clockwise.
In going through the data and the production of the maps, I identified many demographical outliers around Sydney that I had not been aware of previously and this demonstrates what the graphical presentation of spatial and demographical data can achieve when performing such analyses. Outliers that can easily be missed in a long table become immediately clear when presented visually. Mecone has the capability to put the strengths of visual data analysis and presentation to use for your organisation, with the ability to analyse a wide range of datasets, including but not limited to: land use zoning, floor space ratio controls, rent prices, sales prices, demographical data, transport access, as well as (proximity to) points of interest and facilities. Such graphics-based analyses can not only be used to help you understand the data better, but also to those you need to communicate with and ultimately help you to get your message across.
In this article, I have presented just a few of my personal observations from the SEIFA map; have a closer look for yourself and you may find many other interesting pockets on interest scattered amongst the metropolitan area of Sydney.