Improving urban equity through land use and transport planning
Transport projects often involve significant cost to the public, but are essential for urban productivity and play an important role in providing better economic opportunities for disadvantaged people and promoting urban equity.
Equity can generally be defined as fair distribution of impacts (costs and benefits). Urban inequity results in differentials in access to opportunities (employment, healthcare, education and basic services). Improving urban inequity means removing the invisible boundaries that divide our cities into east and west, centre and fringe, in and out.
Figure 1 below shows the Socio Economic Index for Areas (SEIFA) ranking for the Sydney Metropolitan Area. SEIFA ranking reflects social disadvantage, which could be characterised by early school living, low income, low work skills, high unemployment, high levels of criminal convictions and relatively poor heath. The figure shows that the five most disadvantaged areas of Sydney are located in Western Sydney and include Local Government Areas of Bankstown, Liverpool, Penrith, Blacktown and Auburn. One common characteristic of these areas is relatively poor public transport access as compared to Inner City and Eastern Sydney.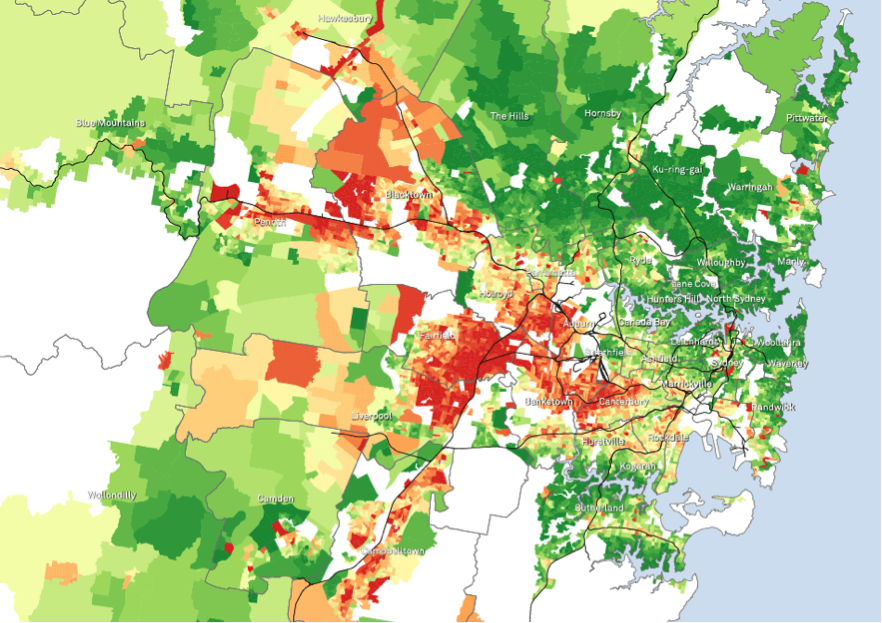 Figure 1 – SEIFA Index in the Sydney Metropolitan Area
Equitable cities maximise efficiencies, become more productive and have stronger and more resilient communities. Planners and politicians generally accept that equity is as an important consideration in making planning decisions at various levels. Planning legislation and metropolitan strategies in NSW often have goals to promote equity, however, these plans and legislative frameworks usually lack clearly defined directions or strategies on how the equity goals can be achieved.
Equity is a complex concept and is normally difficult to measure: Firstly, there are different types of equity:
Horizontal equity means fair and equal distribution of impacts between all individuals and groups.
Vertical equity means the distribution of impacts with regard to people's needs and abilities.
Secondly, planning decisions have several types of impacts. For example, a new public transport project could have impacts including social, economic, service quality and customer experience, as well as external impacts such as aesthetic and environmental impacts. In theory all of these impacts (costs and benefits) should be equitably distributed among the users and beneficiaries.
Lastly, there are numerous social categories to consider when assessing equity impacts of a planning decision. Categories may include various income groups, age groups, ethnic groups and people with disabilities.
Building equitable cities requires a broad range of policies and directions at all levels of government – federal, state and local. Establishing a clear framework of strategies and measurable tools to analyse equity impacts of planning decisions can turn the complex concept of equity into a more tangible aspect of planning.
How Can Social Equity be Improved Through Integrated Land Use and Transport Planning?
As mentioned earlier, transport projects can potentially have major (positive or adverse) equity impacts on communities. This article outlines a number of potential strategies, which could result in more equitable urban outcomes through land use and transport planning:
Promoting more compact cities, encouraging transport oriented development through metropolitan growth strategies and land use policies – compact cities tend to be more equitable for various reasons. They provide better accessibility to jobs, healthcare, educational and other basic services, whereas urban sprawl offers people in the fringe fewer opportunities to access employment choices at the level to which they are qualified. Additionally, there are social and economic consequences for people on urban fringe, who choose to work in the CBD or other inner city employment centres as they have less time to spend with family or participate in social/recreational/ sporting activities and spend more time commuting. In particular, poor accessibility to employment results in the exclusion of many women from the workforce, with several flow on effects on the overall productivity of the economy and quality of life.
Compact cities offer more opportunities to use a variety of affordable transport modes, such as walking, cycling and public transport.
Planners should have higher focus on 'accessibility' impacts as opposed to 'mobility' impacts. Mobility relates to the efficiency and pace of movement. Accessibility on the other hand means the ability to reach a particular opportunity. Enhancing accessibility means creating employment opportunities close to where people live, thereby reducing the need to travel. Therefore, when assessing new transport initiatives or improvements it is important to measure the number or percentage increase in accessible jobs and services rather than purely focusing on travel time savings.
The value assigned to accessibility gains or transport advantage should be inversely related to people's current level of accessibility. This means that people with poor access should gain higher transport advantage as a result of new transport improvements.
Transport planning decisions should promote more diverse and affordable modes. This means that transport and land use policies should focus on making employment opportunities and services accessible through walking, cycling and public transport.
Transport pricing reforms could contribute to increased equity as most of the socially disadvantaged groups are forced to live further away from the city centre. They will therefore suffer from higher transportation costs. A pricing reform could offer more affordable public transport trips for the socially disadvantaged groups.
The above recommendations are only a few out of many potential ways to integrate equity considerations in planning transport improvements. Regardless of what strategy is being used, understanding the equity implications of transport policies is essential in increasing economic opportunities for disadvantaged groups.