Government Progressing Work To Streamline Approval Process And Design Quality For Medium Density Housing In NSW
In late 2015 a
nd early 2016, the Dept. of Planning and Environment (DPE) exhibited a Discussion Paper exploring options to permit medium density housing such as terraces and townhouses as 'complying development'. Enabling 'complying development' provisions for terraces and townhouse style development through the State Environmental Planning Policy (Exempt and Complying Development Codes) 2008 (Codes SEPP), is seen as a key enabler of additional housing supply and choice for Sydney in particular, and NSW more broadly.
This plan is strongly supported by the Planning Minister, Rob Stokes, who has stated "Sydney will need an extra 664,000 homes over the next 20 years… Terraces and villas are more energy efficient than detached houses and medium density housing also offers more variety and flexibility for Sydney's changing demographics." 
Following on from the Discussion Paper, DPE has now released a draft 'Medium Density Design Guide' and 'Medium Density Housing Code' for comment to "provide benchmarks for designing and assessing low rise medium density housing types including terraces, dual occupancies, multi-dwelling housing and manor homes".
The draft Design Guide is proposed to build on the earlier Discussion Paper and includes criteria to be used for both complying development and development applications for medium density housing types across NSW. The Design Guide is intended to operate in a similar manner to the Apartment Design Guide for residential flat building developments under SEPP 65.
Draft Medium Density Design Guide
Source: Department of Planning and Environment

Key elements of the draft Design Guide: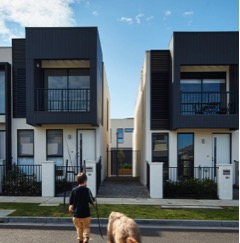 The Design Guide will include design standards for medium density housing including layout, landscaping, private open space, sunlight, natural ventilation and privacy;
A two-storey height limit will ensure the size and scale of development is low rise and will easily fit into established streetscapes and areas;
Applicants will be required to provide a Design Verification Statement prepared by the building designer for all medium density complying developments, which certifies that the development meets the design criteria and key design quality principles set out in the Design Guide;
Medium density housing will only be able to be carried out as complying development in areas that already allow medium density development under a council's local environmental plan;
The Design Guide will be legally enforceable for complying development and any certifier that assesses a development will also need to ensure the development standards and design principles are met; and
Whilst the Design Guide will not be legally enforceable for medium density housing developments assessed as a development application, it is intended that it will be used by the council as a reference document to guide quality design outcomes.
Contemporary multi-dwelling housing forms
Source: Department of Planning and Environment

Changes to the Codes SEPP – the draft Housing Code
As well as preparing a draft Design Guide, the Department has released an 'Explanation of Intended Effects' for the proposed 'Medium Density Housing Code' that will form part of the updated Codes SEPP. A number of the Code's intended provisions have changed as a result of the feedback from the initial Discussion Paper.
The draft Code will allow for the development of the following housing types as Complying Development:
Dual Occupancy;
Manor Homes (a building containing 3 or 4 dwellings on one lot of land, where each dwelling is attached to another dwelling by a common wall/floor, and the building contains no more than two storeys excluding any basement); and
Multi dwelling housing (terraces) meaning 3 or more dwellings (whether attached or detached) on one lot of land – each dwelling has a frontage to a public road and no other dwellings are above or below.
The housing typology must also be permissible in the zone and the existing restrictions for complying development in the General Housing Code with respect to heritage and environmentally sensitive areas will also apply.
The key standards which affect capacity (lot size and FSR) for these housing types are shown in the below table.



The following housing typologies are not recommended to be carried out as complying development in the draft Housing Code:
Dual occupancies (attached) where one dwelling has a frontage to a primary road and the other is directly behind or dual occupancies (detached) where the dwelling does not have a frontage to a road;
Multi-dwelling housing where each dwelling does not have a frontage to the street; and
Multi-dwelling housing (terraces) where each dwelling has a frontage to the street but the width of each dwelling is less than 6m and the lot is less than 200sqm.

Comments and Next Steps
The Department is accepting submissions on the draft Guide and Code until 12 December 2016.
The stated aim of the Housing Guide and Code is to reduce approval times and costs; deliver greater housing choice; and improve design quality and amenity of medium density housing in NSW. While these aims are positive, it will be important to evaluate the Design Guide and Housing Code's success in 'reducing red tape' once in effect.
In particular, it will be important to evaluate how much weight Council applies to the Housing Guide for development applications. The draft Code states that, unless Council adopts the Medium Density Design Guide, it will have no regulatory effect. However, it remains to be seen whether individual Councils will require future development applications to be consistent with a combination of their DCP controls, as well as the Medium Density Design Guide, which could create additional uncertainty around development controls for this housing typology moving forward.
Contemporary multi-dwelling housing forms
Source: Department of Planning and Environment