Central Melbourne Design Guide: Draft for Exhibition
Mecone's Submission to Amendment C308 of the Melbourne Planning Scheme
The Melbourne City Council has prepared a Planning Scheme Amendment for land generally within the Hoddle Grid and Southbank (the Central City) – affecting land generally within the Capital City Zone, Public Use Zone, Mixed Use Zone and General Residential Zone within the Design and Development Overlay Schedules 1, 2, 3,4, 10, 14, 27, 40, 56, 58, 60, 62 and 70 of the Melbourne Planning Scheme.
The amendment is currently on exhibition until Friday 10th August 2018.
The amendment documents can be found here, and the Central Melbourne Design Guide can be found here.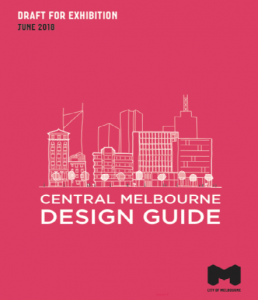 Image courtesy of Melbourne City Council
Image Source: Mecone
Amendment C308 proposes to implement a planning tool "Central Melbourne Design Guide" based on best practice to improve the design quality of private development and consolidate the many urban design policies within the Melbourne Planning Scheme into one Design and Development Overlay (DDO).
The Central Melbourne Design Guide ('the Guide') is intended to be a guide to assist with the assessment of development proposals and is not to prescribe template outcomes.
The Guide is a useful planning tool that provides good urban design principles, utilising images and photos. The Guide is easy to read and understand. It is structured in six themes, with an 'avoid' section at the end of each theme. The themes are:
Urban Structure
Site Layout
Building Mass
Building Program
Public Interface
Design Quality
Read Mecone's submission on the proposed Planning Scheme Amendment here.