Are Dwelling Approvals Telling the Whole Story?
The availability and cost of housing in Sydney has been a contentious issue in recent years. Whilst population pressures continue to create demand for additional housing, many existing residents of Sydney feel that development is changing the character of their neighbourhoods, replacing detached housing with multi-unit apartment buildings in inner city areas and rural landscapes with urban sprawl in outer city areas. This, coupled with a historical deficit in infrastructure investment, has led to increasing frustrations. Despite the ongoing debate surrounding population growth, ultimately, the NSW Government does not control the Commonwealth's migration policy or natural population increase – instead, its role is to provide sufficient and affordable housing to cater for those forecast to move to Sydney.
A recent article published in the Sydney Morning Herald on 12 August highlights how some Sydney councils are "surging past housing targets" with dwelling approvals occurring at a rate that is "faster than what some would like", essentially portraying the image that there is no housing shortage in Sydney. However, what the article only briefly mentions is that its data source, i.e. dwelling approvals, does not necessarily equate to actual dwellings being built on the ground. A more accurate indicator of whether housing demand is being met is housing completions, which only take into account dwellings that are built. The graph below shows that historically, excluding the past decade, only approximately 90% of dwelling approvals ultimately concrete into completed dwellings, even after allowing for a 12-month approval to construction time delay.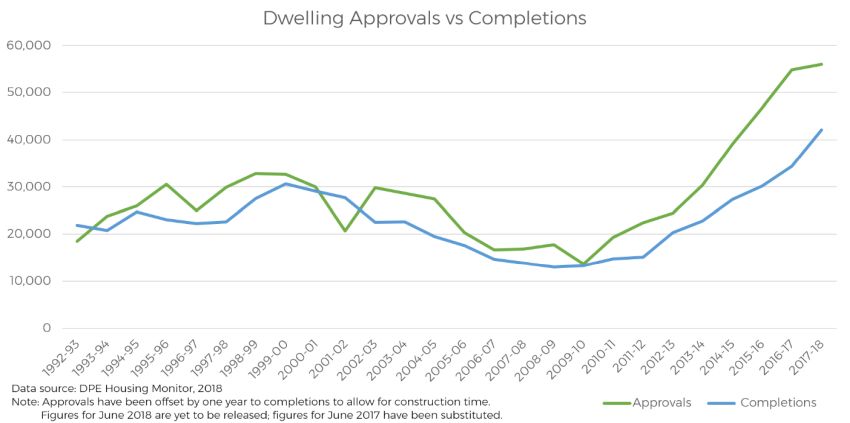 (Image Source: Mecone) The past decade has seen a departure of the historical trend of completions closely correlating with approvals, with an increasing gap between the two following the Global Financial Crisis.
In the past decade, however, coinciding with the Global Financial Crisis (GFC), the gap between dwelling approvals and dwelling completions has been increasing. The number of dwellings constructed during the 2016–17 financial year, accounted for only 63% of the previous year's approvals. One of the potential causes for this widening approvals–completions gap is the increased difficulty in seeking financing for development projects following the GFC and, more recently, banks tightening their lending practices. Given the large number of unrealised approvals, it is only when we look at dwelling completions that we can ascertain a more accurate overview of the actual housing supply situation.
(Image Source: The Sydney Morning Herald) The Sydney Morning Herald's map shows that dwelling completions in Liverpool LGA account for under half of the dwelling approvals in the same 2½-year period.
Further, with the recent scrutiny on banks' lending practices at the Financial Services Royal Commission, this financial crunch is now likely to also affect the other end of the housing financing, with potential homebuyers finding it more difficult to get their mortgages approved, thus reducing demand. This decreased demand is then ultimately reflected in a decline in housing completions. The start of this decline is already evident, with the 2017–18 approvals no longer following the steep upwards trajectory of past years.
Another trend that is evident from the mapping in the Herald's article is that where dwelling approval targets are not being matched evenly in Sydney, with many inner area councils having approval levels insufficient to meet NSW Government growth projections. Whilst there are indeed families with children that would prefer the open space that comes with living in detached housing on the peripheries of Sydney, there are also many who would prefer to live in areas closer to central business districts to reduce the daily commute or to reside in a more cosmopolitan community. There are also those in single-person households who are more suited to the smaller apartments found predominately in inner Sydney, as opposed to the detached house in greenfield areas. It is these households who seek more centrally located properties that are particularly affected by this uneven distribution of housing approvals in Sydney.
Further compounding the supply issue in the inner areas of Sydney, many of the brownfield sites that have been providing for much of the inner-city dwelling completions in the past decade, such as Wolli Creek, Wentworth Point and Green Square, are now significantly developed. The government's population growth forecasts project a period out to 2056 and the supply from these large former industrial sites providing much of the supply up to this point will be exhausted long before 2056. Whilst these inner council areas with large former industrial sites (such as Bayside Council with Wolli Creek) may presently be close to their housing targets, once these large brownfield sites are exhausted, they are essentially speeding towards a land supply "brick wall". Furthermore, there are few large-scale brownfield sites in the future and their development will be more challenging. The Bays Precinct in a good example of this as a major potential site that has not progressed due to lack of transport accessibility. Subsequent remaining sites with development potential have smaller lot sizes and fragmented ownership, making their redevelopment slower, more difficult and more expensive.
Whilst the Herald's article portrays that housing supply is not an issue in Sydney given the above-target dwelling approvals, this is an oversimplification of the narrative. A closer examination reveals an increasing gap between approvals and completions. Furthermore, the majority of dwelling approvals are occurring in outer urban areas, often in the form of detached housing, and for a sizeable portion of homebuyers, this may not meet demand for different housing types. There is still much work to be done to meet the demands of the different segments of the housing market.
Article written by Ben Hendriks and Winston Yang.